Superior Representation for Divorce Mediation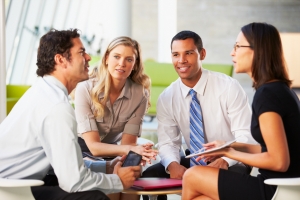 While the end of a marriage can be difficult, the divorce process does not have to be. Mediation can be a useful tool during the divorce proceedings. A Centennial Family Law attorney can assist parties in resolving their disputes without the need to go to court. Mediation is often quicker and less expensive than litigation their issues in court.
At Robbins Law Firm LLC, our family law attorneys have extensive experience representing people in divorce mediation. Known for effectively protecting her clients' rights and interests in any legal setting, our lawyer can help you successfully get through divorce mediation so that you can move on to the next promising phase of your life.
Benefits of Divorce Mediation: Reasons to Resolve Divorce via Mediation
Although mediation is not for everyone, there are several benefits for divorcing parties, some of which include:
Mediation is confidential. Any discussions and settlement offers during mediation cannot be used in a court proceeding. This allows the parties to freely negotiate and discuss sensitive issues without worrying about your discussions coming into court.).
Divorcing parties can have a hand in devising resolutions – When divorces proceed to court, the presiding judge or magistrate will decide how each issue will be resolved. In contrast, mediation allows the parties to develop mutually beneficial solutions. This can potentially yield better outcomes to the divorce case because each party will have played an active role in developing the resolution(s).
Mediation can reduce the duration and costs of divorce – Mediation occurs outside the court; therefore, mediation can be scheduled according to the parties' schedules. This is often quickly that waiting for a court date. If the parties can reach a full agreement on all the issues during mediation, the parties can save a significant amount of money in attorney fees.
Divorce Mediation in Colorado: More Important Information
Court-ordered mediation – Many courts order parties to mediation any unresolved issues before a court date can be set. Once parties attend mediation, any unresolved issues will then be decided by the Court. The goal of court-ordered mediation is to try to facilitate out-of-court resolutions for the parties.
When mediation is unsuccessful – Mediation is not always effective. Some parties may be able to resolve some issues but not all issues. The parties can proceed to a court hearing and have the court decide any unresolved issues.
Contact a Family Law Attorney at Robbins Law Firm LLC
For effective representation in divorce mediation, contact a family law attorney at Robbins Law Firm LLC.
At Robbins Law Firm LLC, our attorneys and her dedicated staff are focused on providing our clients with customized, tailored approaches, as well as vigorous legal advocacy, to help them obtain the best possible outcomes to their important family legal issues.
To find out more about your best options for resolving a divorce case or other family legal issues, schedule an initial consultation with our lawyer by calling 720.617.2623 or by emailing us via the contact form on this page.